If in tomato crops the whitefly is controlled by the parasitic wasp Encarsia formosa and besides pests like the silver Y moth or the golden masked owl occur, Trichogramma may be used in addition to Bacillus thuringiensis preparations. When controlling owlet moths in herbs and vegetables, Trichogramma parasitic wasps have the additional advantage that no residues or leaf spots are caused that even with biological preparations cannot always be excluded. In tropical greenhouses or zoological gardens, usually the use of chemical agents is not possible because of the animals and insects living there but also because of the visitors.
In greenhouses there are generally warm and humid climatic conditions – perfect not only for the growth of plants but also for many pests! This also includes harmful moths. Trichogramma parasitic wasps may be used to control them.
Visitors, animals and insects, long opening hours, open waters in display greenhouses – all these are factors that strongly limit or even make impossible the use of chemical plant protection products, also of biologically effective ones. The use of egg parasites to control the harmful moths is a good alternative here, especially since several other beneficial insects are already used here for control.
For the successful control it is important to know the existing species. You are welcome to send us pictures or the pests found (moth, caterpillar, pupa), alive or dead, for analysis. Securely pack the samples in boxes or fix them with adhesive tape on paper. We will check as soon as possible what kind of pest it is.
Monitoring with pheromone traps
By means of species-specific pheromone traps it is possible to catch male moths but also to determine a date for the use of Trichogramma parasitic wasps.
Trichogramma collection
With more than 30 species and about 200 strains from different locations and from different pest eggs, we have one of the biggest collection of Trichogramma-species worldwide. For the determination and maintenance of this breed collection we realize a molecular genetic identification of species (ITS-2 PCR), as the microscopic beneficial insects (about 0.4 mm) are difficult to determine with the microscope. This family is worldwide the best studied group of beneficial insects because it can already be used against the eggs of the lepidopteran pests and it works faster than any other control agent.
We are therefore able to quickly test appropriate Trichogramma-species when new lepidopteran pests occur.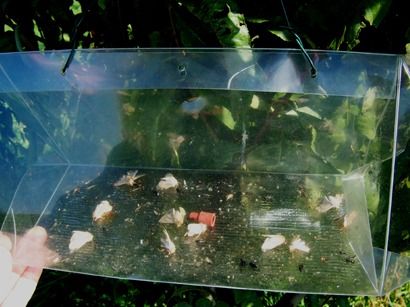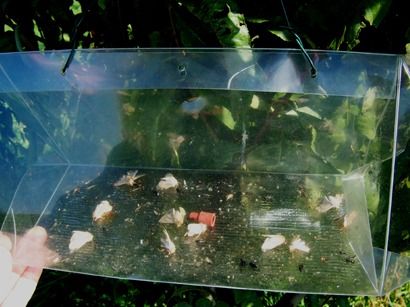 leimfalle_tropenhaus_schädlingsbekämpfung_gewächshaus
leimfalle_tropenhaus_schädlingsbekämpfung_gewächshaus

We also support university research with this extensive living collection of Trichogramma, including studies on the basic research in the biology and ecology of Trichogramma. Our partners include Freie Universität Berlin, the universities in Bremen, Stuttgart-Hohenheim, Freiburg, Halle or also international partners in DK-Kopenhagen, NL-Wageningen, ES-Almeria, the University of Cairo or colleagues in the Middle East.
Apart from the practical use, research and further development of the procedure are important to us. We are partner in various research projects both in plant protection and stored product protection. In cooperation with the Julius Kühn Institute, the DLR, but also the Fördergemeinschaft Ökologischer Obstbau e.V. (Föko) important further developments have been driven forth.